Conversation with Wisconsin Athletic Hall of Fame Member Janis Doleschal
As part of its Conversation Series, the National Sports Law Institute invites all students to a conversation with Janis Doleschal, former Commissioner for Sports for the Milwaukee Public Schools, on Thursday, February 21st, at 12 pm, in room 433.  Ms. Doleschal is a high school sport expert and consultant with the Law Offices of Martin J. Greenberg,  member of the Wisconsin Athletic Hall of Fame, and Wisconsin Athletic Directors Hall of Fame, and is currently a sports law risk consultant working with high schools through her organization Start Playing Safe (recommended reading Managing Risk in Interscholastic Athletic Programs: 14 Legal Duties of Care, 17 Marq. Sports L. Rev. 295 (2006)​.   Ms. Doleschal is also a long-time member of the National Sports Law Institute's Board of Advisors, and sponsors the Janis Doleschal "Risk Management in Sport Writing Competition and Award" for Marquette University Law School students.  Led by second year Sports Law Program student Brandie Tartza, Ms. Doleschal will talk to students about her long career in athletics as an athlete, coach and administrator, and her commitment to students within the Sports Law Program through visits to our classrooms and support of her writing competiton and award.  Lunch will be provided to all attendees.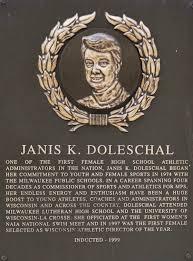 Related Events
There are currently no upcoming events.
Please check back soon.