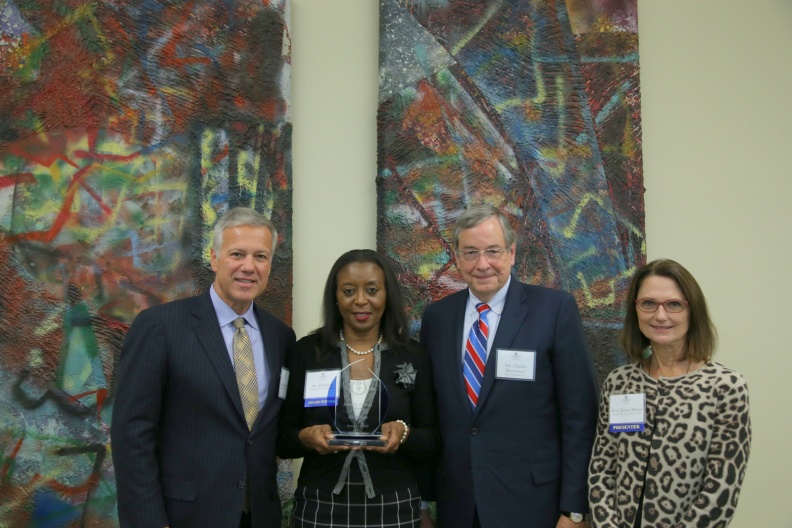 The Joseph E. O'Neill Award was established by the O'Neill family, Davis & Kuelthau, S.C. and the National Sports Law Institute after Mr. O'Neill's untimely death in 1992. The award is given to an individual in the sports industry who has made a significant contribution to the field and done so while exemplifying the highest ethical standards. Past recipients of this award are
2018: Jill Pilgrim, founding & managing attorney, Pilgrim & Associates Law Office, New York, New York; Acting Executive Director and General Counsel, Track and Field Athletes Association; President, Center for the Protection of Athlete's Rights, Inc.
2017: Jim McKeown, Partner and Member, Sports Industry Team, Foley & Lardner, LLP, Adjunct Professor, Marquette University Law School
2016: Marti Wronski, Vice President and General Counsel of the Milwaukee Brewers Baseball Club
2015: Richard McLaren, Professor of Law, University of Western Ontario, Of counsel, McKenzie Lake Lawyers LLP, CEO, McLaren Global Sport Solutions, and Member, Court of Arbitration for Sport
2014: James Perzik, Senior Vice President Legal Affairs/Secretary, Los Angeles Lakers, Los Angeles, California.
2013: Gary Way, Global Counsel, Sports Marketing, NIKE Inc., Beaverton, Oregon.
2012: Mary Kay Braza, Partner and Chair, Sports Industry Team, Foley & Lardner LLP, Milwaukee, Wisconsin.
2011: Ronald Walter, Vice President and Alternate Governor, Milwaukee Bucks, Inc., Milwaukee, Wisconsin.
2010: Elsa Kircher Cole, Vice President of Legal Affairs and General Counsel, NCAA, Indianapolis, Indiana.
2009: Clark Griffith, Commissioner, Northern League, and former Chair, NSLI Board of Advisors, Minneapolis, Minnesota.
2008: Honorable Anne M. Burke, Illinois Supreme Court, Chicago, Illinois.
2007: Frank DeGuire (L'60), Dean Emeritus, Marquette University Law School, Milwaukee, Wisconsin.
2006: Richard Berthelsen, General Counsel, National Football League Players Association, Washington, D.C.
2005: Michael Cramer (L'78), Chief Administrative Officer of Pinnacle Foods Corp., and a partner in C. Dean Metropoulos & Co., Greenwich, Connecticut.
2004: Michael Marcil (L'85), Commissioner, North Central Conference, Sioux City, South Dakota.
2003: Robert DuPuy, Chief Operating Officer, Major League Baseball.
2002: Michael Slive, Commissioner of the Southeastern Conference.
2001: Martin J. Greenberg (L'71), Managing Director, ScheerGame Sports Development, LLC, and Charles Mentkowski (L'48), Professor Emeritus, Marquette University Law School.
2000: Wendy Selig-Prieb (L'87), former President and Chief Executive Officer, Milwaukee Brewers Baseball Club.
1999: Daniel R. Doucette, former President and Principal Owner, Milwaukee Rampage, and President and Chief Executive Officer, Milwaukee Mutual Insurance Company.
1998: Charles W. Mulcahy (L'62), Whyte Hirschboeck Dudek SC, and President, Milwaukee Tennis Classic Foundation.
1996: Joseph E. Tierney, Jr., attorney for the Bradley Foundation and Milwaukee Admirals.
1995: Brian Burke, former Vice President and Director of Hockey Operations for the National Hockey League and current President and General Manager of the Vancouver Canucks.
1993: A. Jackson Mills, President, Ascent Sports Management, Boulder, Colorado.