Sports Law Certificate Requirements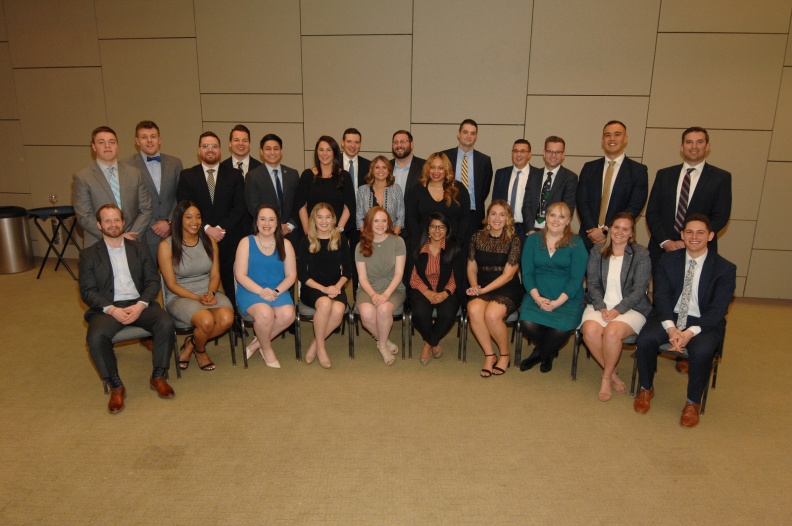 2019 Sports Law Certificate class
Table of Contents
Only students graduating from Marquette University Law School who fulfill all of the following requirements (including attending all required meetings), may earn the National Sports Law Institute's Sports Law Certificate.  The Certificate is presented to each student after his or her law school graduation.
CERTIFICATE REQUIREMENTS
1.         Both introductory sports law survey courses (3 credits): Amateur Sports Law and Professional Sports Law
2.         One sports law workshop (2 credits):  Legal and Business Issues In Collegiate Athletics, Legal Issues in Youth, High School, and Recreational Sports, NCAA Governance and Compliance, Representing Professional Athletes and Coaches, Sports Industry Governance, Sports Sponsorship - Legal and Business Issues, Sports Venues, or The Impact of Gender Equity Laws on Sport, .
3.         A Sports Law Seminar, or a research paper on a sports law topic in another Law School seminar (2 credits).
4.         Topics in Advanced Legal Research - Sports Law (2 credits) (learning outcome).
5.         Alternative Dispute Resolution or related ADR course.
6.         One or more of the following substantive law courses that significantly impact the sports industry: Antitrust Law; Business Associations; Disability Law; Education Law; Employment Law; Federal Income Taxation of Individuals; Intellectual Property Law; or Labor Law.
7.         Marquette Sports Law Review staff position for a full academic year (learning outcome).
8.         A sports law practice/research internship of at least one semester in length (learning outcome).
Progress toward receipt of the Certificate (required meetings & applications)
Professor Paul Anderson monitors each student's progress toward meeting the requirements of the Sports Law Certificate.  This monitoring includes the following required meetings and applications:
1L year
First Semester:

Attend Sports Law program orientation
Attend Career Planning Center fall registration for 1L students (October after NSLI fall conference)
Register as a Sports Law Certificate candidate (November)

Second Semester

Attend Sports Law Certificate and Course Planning meeting (April)
Register to take part in the Marquette Sports Law Review summer 2019 writing competition (April)
Register for Advanced Legal Research Sports Law (Summer or Fall 2019) and Amateur Sports Law (Fall 2019)

Summer after 1L year

Compete in Marquette Sports Law Review member writing competition
Possible - Enroll in ALR-Sports Law & Placement in internship
2L year
First semester

Complete Sports Law Certificate application (August)
Certificate planning meeting with Meeting with Professor Anderson (end of semester)
Enroll in Amateur Sports Law & ALR-Sports Law
Possible placement in internship

Second semester

Possible placement in internship
Certificate status check with Professor Anderson

Summer after 1L year

Compete in Marquette Sports Law Review summer competition if necessary
3L year
First semester

Complete Certificate completion application and review (September)

Second semester

Complete Certificate Exit Survey & Exit Interview (March – April)
Attend Certificate Luncheon (May)
Each year in law school
FALL

Join and participate in the Sports Law Society
Attend sports law events
Attend and volunteer to help with the fall conference

SPRING

Attend annual spring alumni career panel
Attend annual spring practicing sports law panel
Attend annual spring end of the year sports law banquet
The exact date for each event or meeting, and the due dates for each application, will vary each year.  It is the student's responsibiliy to complete each requirement in the order listed above.  All communication related to Sports Law Certificate requirements will come from Professor Anderson by email: paul.anderson@mu.edu.  
Please direct any questions related to the requirements for the Sports Law Certificate to Professor Paul Anderson, NSLI Director.