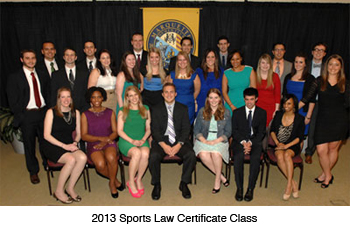 Only students graduating from Marquette University Law School who fulfill all of the following requirements may earn the National Sports Law Institute's Sports Law Certificate. The Certificate is presented to each student after his or her law school graduation.
1. Both introductory sports law survey courses (3 credits): Amateur Sports Law and Professional Sports Law
2. One sports law workshop (2 credits): Legal and Business Issues in Baseball, Legal and Business Issues In Collegiate Athletics, Legal Issues in Youth, High School, and Recreational Sports, Representing Professional Athletes and Coaches, Sports Industry Governance, Sports Sponsorship and Marketing Legal and Business Issues, or Sports Venues: From Election Day To Game Day.
3. The Selected Topics in Sports Law or Legal History of the Sports Industry Seminar, or a research paper on a sports law topic in another Law School seminar (2 credits).
4. Topics in Advanced Legal Research - Sports Law (2 credits) (learning outcome).
5. Alternative Dispute Resolution or related ADR course.
6. One or more of the following substantive law courses that significantly impact the sports industry: Antitrust Law; Business Associations; Constitutional Law 2: Speech and Equality; Disability Law; Education Law; Federal Income Taxation of Individuals; Intellectual Property Law; or Labor Law.
7. Marquette Sports Law Review staff position for a full academic year (learning outcome).
8. An at least one semester volunteer sports law internship (not for law school academic credit) (learning outcome).
Progress toward the Sports Law Certificate
In the fall semester of any given year, second year students who plan to work toward achieving the NSLI's Sports Law Certificate register with Professor Anderson. At the same time, third year students who are working toward the Certificate will meet with Professor Anderson to go over their individual progress. A final meeting is held during the student's final semester in law school to verify that all Certificate requirements will be met upon graduation and to conduct an exit interview.
To receive a complimentary brochure about the Sports Law Program please send an email request to Professor Paul Anderson, NSLI Associate Director.