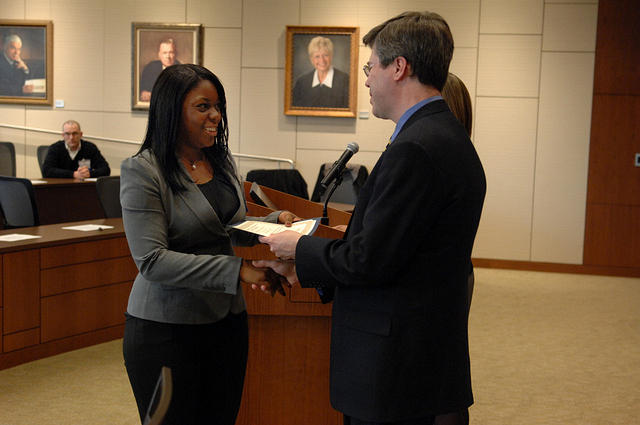 It is the daily; it is the small; it is the
cumulative injuries of little people
that we are here to protect…if we are
able to keep our democracy, there must be one commandment: Thou shalt not ration justice.
-Learned Hand, address at the 75th anniversary celebration of the Legal Aid Society of New York, Feb. 16, 1951.
Marquette's Pro Bono Society was formed for the purpose of recognizing the pro bono legal services provided by Marquette University Law School students.  Each year, students qualifying for membership in this honorary society will be invited to an induction ceremony and receive an official certificate from the Dean of the Law School. In addition, Pro Bono Society members will receive an honor cord and will be specially acknowledged at the Law School graduation ceremony. Distinct recognition will be given to students who complete 50 and 120 hours of pro-bono service.
To qualify for membership in the Pro Bono Society, law students must perform a minimum of 50 hours of volunteer legal services.  The following guidelines are used to determine whether particular volunteer service hours will qualify toward the Pro Bono Society membership requirements:
Pro bono service must be legal in nature. A primary component of the work must involve the use of legal skills or legal knowledge
 
Pro bono service must be supervised by a licensed attorney.
 
Pro Bono service must be voluntary. Work for which students receive compensation or academic credit is not eligible for consideration towards the service hour requirements.
 
Time spent traveling to and from a volunteer site should not be calculated as service hours.
 
A maximum of 6 hours of direct training may be credited toward service hours. The training must be related to the pro bono work being performed.
 
Pro Bono service must advance equal justice. The primary constituency served should be persons or causes with barriers to accessing justice, or organizations which benefit such individuals or causes. The most direct purpose of pro bono service is the provision of legal assistance at no charge to those who cannot otherwise afford legal counsel.
 
Pro bono work is nonpartisan work. It is not affiliated with a political party. 
Students are responsible for recording their pro bono time as they perform it. Each student has a personal pro bono account where pro bono time is entered.
Pro Bono Publico (a.k.a, Pro Bono) literally means, "for the public good." These guidelines are intended to conform to Wisconsin Supreme Court Rule 20:6.1(a) as well as to Jesuit principals that envisage a "preferential option for the poor."
Wisconsin SCR 20:6.1 provides:
Voluntary pro bono publico service. Every lawyer has a professional responsibility to provide legal services to those unable to pay. A lawyer should aspire to render at least 50 hours of pro bono publico legal services per year. In fulfilling this responsibility the lawyer should:
(a) provide a substantial majority of the 50 hours of legal services without fee or expectation of fee to:
(1) persons of limited means or
(2) charitable, religious, civic, community, governmental and educational organizations in matters that are designed primarily to address the needs of persons of limited means; and
(b) provide any additional services through:
(1) delivery of legal services at no fee or substantially reduced fee to individuals, groups or organizations seeking to secure or protect civil rights, civil liberties or public rights, or charitable, religious, civic, community, governmental and educational organizations in matters in furtherance of their organizational purposes, where the payment of standard legal fees would significantly deplete the organization's economic resources or would be otherwise inappropriate;
Students interested in participating in the pro bono are encouraged to sign the "Pro Bono Pledge" and schedule an appointment with Angela Schultz, assistant dean for public service, in order to determine which pro bono sites best fit the student's personal and professional interests and goals.
Current pro bono sites and opportunities are available online.
Students are responsible for confirming their placement with the organization, meeting with the supervising attorney to determine the specific responsibilities of the position, and keeping track of hours served.
For information contact:
Angela Schultz
Assistant Dean for Public Service
(414) 288-6823
angela.schultz@marquette.edu