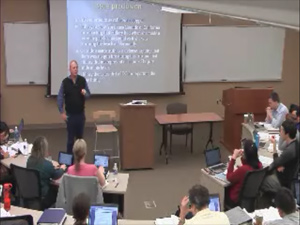 Audio/Visual and Computer Equipment
The Marquette University Law School offers a variety of audio/visual equipment for faculty to checkout. Digital recording equipment (video, audio, photo) is available, as well as loaner laptop computers for faculty use. Faculty should complete the Online Equipment Request Form to reserve equipment. Individual instruction is available, just contact the Law School Media and Technology Group. Please indicate if you prefer to have the staff operate the equipment.
Faculty who require special classroom computer software should contact the Media and Technology Group.
---
Course Pages & Course Materials
Course Pages
Web based course pages are available on the Law School's website. Faculty are able manage the web pages specific to their courses. Faculty may add / delete items as well as link to required readings and assignments.
Course Email Lists
The email addresses of students enrolled in a particular course are available from CheckMarq, as well as your secure online profile.
Visual Class Rosters
Class rosters are contact sheets of photographs of students enrolled in your course. The link to course rosters is located on each professor's web biography page.
Classroom Seating Charts
Seating charts are administered by faculty assistants. Faculty assistants can login at SeatGen.com/. Faculty should contact their administrative assistant in help developing and printing out each seating chart.
Email Listservs
A listserv is an automated e-mail list and distribution system. When an e-mail message is addressed to a listserv mailing list, it is automatically broadcast to everyone on the list.
---
Scanning & OCR
The Media and Technology Group provides scanning and optical character recognition services to faculty and staff. Documents can be scanned and converted into editable text. Scan & email services are available on selected copiers in Ray & Kay Eckstein Hall. Users are able to use the copier as a scanner and email the scanned item as a pdf document. Contact the Media and Technology Group for more information.
---
Smart Classrooms
All classrooms in Ray & Kay Eckstein Hall are equipped with audio/visual equipment including computers, projectors, document cameras, LCDs, cable TV, and DVD/VCR players. A complete list of classrooms and equipment is available here. To request portable equipment, please complete the Online Equipment Request Form. If you require special software for your classroom, please contact the Media and Technology Group.
Technology Orientation in the Classroom
The Media and Technology Group provides "Technology Classroom Orientation" sessions to help faculty become familiar with the equipment that is provided in the technology classrooms. These sessions are available year round.
To arrange an appointment for any of the training sessions, email mulawtech@marquette.edu.
Session Types Available
Mini Sessions: individual instruction provided 15 minutes prior to class meeting
Full Sessions: individual or group sessions (approx. 45 minutes in length)
Quick Start Sessions: Group sessions traditionally held at the beginning of the fall and spring semesters
Portable Equipment Sessions: individual sessions for equipment available through faculty equipment checkout
---
Software
Antivirus software
As of Feb. 21, 2020, IT Services no longer provides Symantec anti-virus for student, faculty and staff home use. To protect your personal computer from malware and other threats, IT Services recommends using the security software built-in to your computer's operating system.
If you would like additional malware protection, IT Services recommends Sophos Home Edition for both Windows and macOS. You can download the software for free.
Computers found to be infected by a malware will be removed from the network due to the risk and potential impact to the campus. Please review the Acceptable Use Policy and Information Security Program Policy for additional information.
Microsoft Office
Microsoft Office & other software
Enrolled faculty and staff are now able to install Office 365 and OneDrive for Business, for free, with 1TB of file storage. This includes Windows, Mac, and mobile devices. Full information can be found online. Adobe products also may be installed at home. Call the IT Services Help Desk at (414) 288-7799 to coordinate the signing of the home installation agreement. 
Electronic Exams
The Law School has licensed the ExamSoft software. The software allows students to use their personal laptops for in-class exams. The software disables all computer functions except the ability to type exam answers. The files are encrypted, and once closed cannot be opened for editing.  They may only be printed. Contact mulawtech@marquette.edu for a demonstration of ExamSoft. If you would like to use ExamSoft in your class, contact Associate Dean for Administration and Registrar, Bonnie Thomson.
Virtual Private Network
The VPN or Virtual Private Network allows you to access library databases and campus-restricted websites from home. In order to access the Campus Files System from off campus, you must install the VPN software. Complete information regarding VPN can be found online.