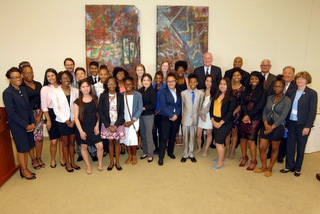 2017 program students celebrate their accomplishment with Wisconsin Judges and Milwaukee Mayor Barrett
Marquette Law School & the Eastern District of Wisconsin Bar Association co-sponsor an annual Summer Youth Institute (SYI). The SYI is designed to introduce middle and high school students from the City of Milwaukee to the legal system, expose them to careers in law, and provide them with practical tools for achieving their educational goals. The SYI is open to students who will enter the 8th, 9th, or 10th grade next fall. Enrollment is limited to approximately 24 students. This program seeks to enroll students who demonstrate motivation, maturity, and a genuine interest in pursuing academic goals. Students must live and go to school in the City of Milwaukee. Students who are either be first-generation college bound (neither of your parents have a college degree) or use English as a second language are strongly encouraged to apply.
Download our latest flyer to share with your classmates.
Want the latest updates on SYI?  Join our email contact list!
---
PROGRAM DESCRIPTION
The Summer 2021 SYI will be held virtually on Zoom and using Google classroom. 
The program includes interactive lessons, critical thinking exercises, writing and oral advocacy, instruction from guest speakers, and presentations from law students, Milwaukee area attorneys, and other legal professional respresenting a host of diverse backgrounds, experiences, and career paths.
The goals of the program are to provide access to a law school educational experience for first-generation, low-income, and/or underrepresented students in law school programs, and ultimately, to contribute to the diversification of legal practitioners in Milwaukee and beyond. 
Students who participate in SYI will:
Explore the legal system and how it works;
Build leadership and teamwork skills;
Analyze selected cases, debate legal issues and participate in an oral argument;
Learn what it takes to become a lawyer;
Explore other careers in the legal system;
Develop professionalism skills;
Develop contact with legal professionals and mentors;
Gain insight into the college and university admissions process and financial aid resources.
At the Summer Youth Institute, students will be putting their skills in action by presenting an 8 minute oral argument.  We'll guide them through how to analyze the law and organize their arguments, and they'll have a great time practicing their arguments with teammates and other students at the SYI.  Students will be actively engaged in learning how to craft an opening statement, present their argument, and answer questions in real time to real attorneys and judges.  Law students from Marquette Law School will coach students on their arguments every step of the way.
Upon successful completion of SYI, students will have the opportunity to participate in the Eastern District of Wisconsin Bar Association's Hon. Charles N. Clevert, Jr., Mentoring Program.  Participating students will be matched with an attorney mentor for the next academic year and will continue to learn and explore the legal field and their future career options.
PARENT/GUARDIAN INVOLVEMENT
Recognizing that the involvement of adult role models is critical to a student's educational success, a special orientation session is held for parents/guardians/mentors to learn the steps involved in helping students navigate the process of taking standardized tests, applying for college, and exploring financial aid. Parents or guardians are also invited to attend the oral argument presentation and to stay for the celebration lunch and closing ceremony.
COST
SYI is provided at no cost to students.
COMMUNICATION
Program communications are done almost exclusively by email. A student will not be emailed unless a parent and/or school counselor's email address is also included on the communication. Parents are strongly encouraged to regularly check emails and, when appropriate, reply promptly. If you do not have an email account, consider setting one up to help your child successfully navigate the exchange of information about the Summer Youth Institute. Your child's school or your local library can help.
We will work with a family who does not have email access. In these instances, prompt replies to mail and phone communications are required. If you phone number or mailing address changes, please notify us at 414-288-7924.
CONTACT US
Summer Youth Institute program staff can be reached by email at SYI@marquette.edu or by phone at 414-288-7924.
APPLICATION PROCESS