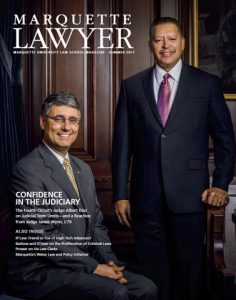 Two pairs may not be the most powerful hand in poker, but they are definitely a winning combination for the Summer 2017 edition of Marquette Lawyer, the Marquette Law School magazine.
One pair in the magazine focuses on how long U.S. Supreme Court Justices should serve and, more broadly, how to assure confidence in the judiciary. Judge Albert Diaz of the U.S. Court of Appeals for the Fourth Circuit focused on this in the E. Harold Hallows Lecture he delivered at Marquette Law School in 2016. The magazine offers a lightly edited text of the lecture by Diaz, including his advocacy of ideas he presumes that few of his fellow judges would support. Paired with the text is a comment from Diaz's colleague on the Fourth Circuit, Judge James Wynn, L'79. An interview and profile of Wynn accompany his comment. The Diaz text may be read by clicking here and the Wynn comment (and interview) here.
The other pair in the magazine offers provocative insights from two people who play leading roles in the tech world. Brad Smith, president and chief legal officer of Microsoft, made two appearances at Marquette Law School on November 15, 2016, delivering the Helen Wilson Nies Lecture on Intellectual Property and participating in an "On the Issues with Mike Gousha" program. A selection of his thoughts may be found by clicking here.
Ted Ullyot is currently a partner at Andreessen Horowitz, a leading venture capital firm in Silicon Valley, and he was formerly general counsel for Facebook—indeed, the lawyer who led the company in the process of going public. An edited version of Ullyot's remarks at the Law School in a Helen Wilson Nies Lecture in April 2016 may be found by clicking here.  Continue reading "Insights on Judiciary and Tech Industry Highlight New Marquette Lawyer Magazine"