Diversity at Marquette Law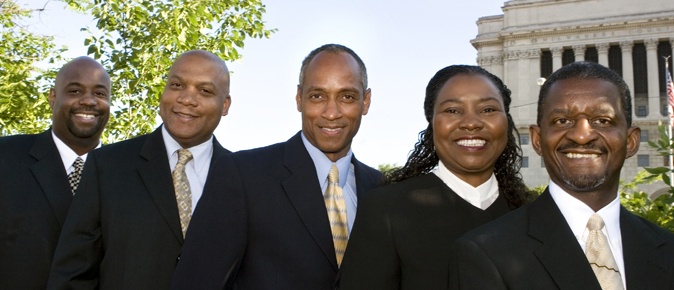 Marquette lawyers Derek C. Mosley, M. Joseph Donald, Frederick C. Rosa, Maxine Aldridge White, and Carl Ashley serve as judges in Milwaukee. Read the full story from the Marquette Lawyer.
It is inevitable that the law school experience will have an impact on your life. The Marquette Law School experience is one of openness and acceptance of various backgrounds, cultures and ideologies. It connects us through our differences.

—KristyAnne Thompson '11
Approximately 20 percent of Marquette University law students come from diverse racial and ethnic backgrounds. The Law School's community, curriculum, and experiential and networking opportunities serve to further our commitment to and recognition of the dignity of each individual regardless of age, culture, faith, ethnicity, race, gender, sexual orientation, language, disability, or social class. Our welcoming and caring campus environment is dedicated to the promotion of justice, and we continually seek to become a more diverse and inclusive academic community.
Marquette Law School was recognized for its diversity outreach efforts in 2014, receiving the Law School Admission Council's (LSAC) "Diversity Matters" first-place award for exceptional programming that encourages racially and ethnically diverse students to consider law as a career.