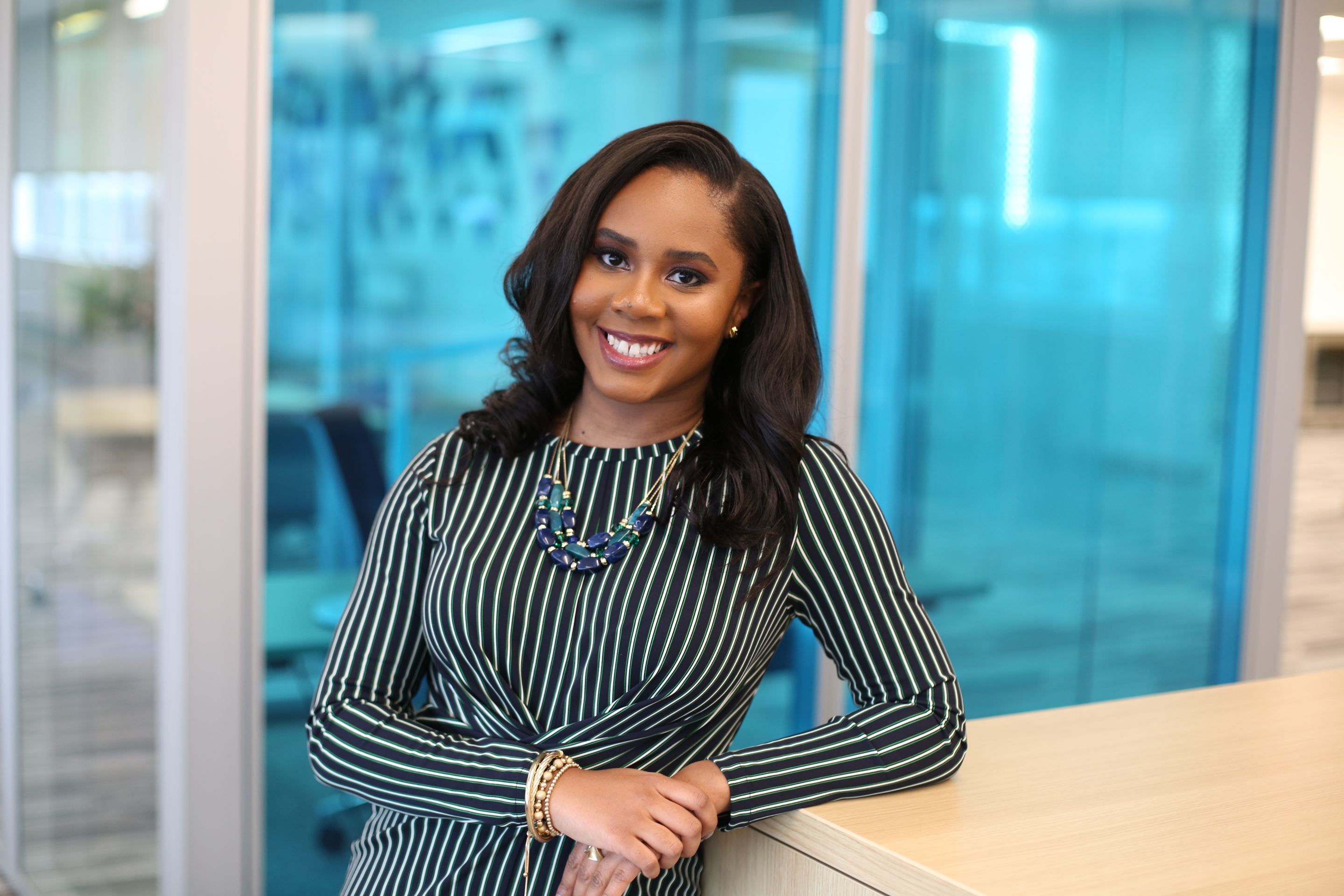 At Marquette University Law School, we are proud of the accomplishments of our alumni. We are pleased to draw special attention to a group of "Rising Stars," alumni who have graduated within the last ten years and who are having an impact on the community early on in their legal careers. These fine leaders exemplify the Jesuit quest for "magis" (i.e. doing more for others, "the more universal good). We celebrate what they have accomplished and look forward to their continued success.
_____________________________________
Brittany Grayson, '11, is a Milwaukee County Circuit Court Judge currently presiding at the Vel. R. Phillips Youth and Family Justice Center. Prior to her appointment to the bench, Judge Grayson spent over six and a half years as an assistant district attorney with the Milwaukee County District Attorney's Office. Judge Grayson serves on the Marquette University Law School Alumni Board, the Milwaukee County Race, Equity, and Procedural Justice Committee, and the board of the Chudnow Museum of Yesteryear - a Milwaukee history museum.  She previously served for several years on the board of the Wisconsin Association for African-American Lawyers and the State Bar of Wisconsin's Board of Governors.
Rachel L. Lindsay, '11, is Of Counsel in the Dallas office of Cooper and Scully, P.C. She was the first African American lead on The Bachelor franchise. She is currently a correspondent for ExtraTV, co-host of Higher Learning with Van Lathan on The Ringer Network, co-host of Bachelor Happy Hour podcast, and co-host of MTV's Ghosted. 
Danielle Bailey, '12, is a Milwaukee County Human Rights Commissioner. She is the founder of the LGBT Bar Association of Wisconsin. She is the current President of the Board of Directors for TRUE Skool and a member of the Wisonsin State Bar Diversity & Inclusion Oversight Committee.
Andre Salhab, '12, is Associate Counsel with the Orlando Magic and Former Business Affairs Manager at ESPN Wide World of Sports/Disney Sports Attractions.
Melissa Soberalski, L'12, is the founder and managing attorney of Soberalski Immigration Law. She proudly fights every day to keep immigrant families together from around the globe. She is dedicated to public service and provides pro bono service to several nonprofit organizations. For her service, she was awarded the prestigious American Immigration Lawyers Association Pro Bono Champion Award by the Wisconsin Chapter in 2020.
Chad Hendricks, L'12, is an associate of the Law Offices of Randall E. Reinhardt and an Appellate Court Judge for the Oneida Nation and other Indian tribes. He is also an Associate Professor-Sports Law at UW-Parkside.
Rebeca López, L'12, is an attorney on Godfrey & Kahn, S.C.'s Labor, Employment & Immigration Law Practice Group. In 2015, Rebeca was named to The Milwaukee Business Journal's "40 under 40," and in 2016, she was recognized as one of Wisconsin's 48 most powerful Latinos by OnMilwaukee.com. View her complete bio here.
Aaron Hernandez, '13, is the Director of the Allan "Bud" Selig Sports Law and Business Program at Arizona State University, Sandra Day O'Connor College of Law. Prior to this, he was the Associate Director of Football at the NCAA, where he founded the Marquette Law School Externship Program with Enforcement. He is the 2019 recipient of the Charles W. Mentkowski Sports Law Alumnus of the Year Award, and he currently serves on the advisory board for the National Sports Law Institute. Read his complete bio.
Kristina Minor, '13, , is the Associate Athletic Director for Compliance at Northwestern University.  She serves as the Vice Chair for both the NCAA Division I Committee for Legislative Relief and NAAC Membership/Awards Committee.
Nida Shakir, '13, is an associate in the Chicago office of Husch Blackwell LLP where she focuses her practice on all aspects of real estate transactions.
Makda Fessahaye, '14, is the director of employees relations for the City of Milwaukee. She previously served as the Administrator for the Wisconsin Department of Corrections' Division of Adult Institutions in Madison. She serves on the Wisconsin Association of African-American Lawyers Board of Directors and is heavily involved with the State Bar of Wisconsin. She serves on Marquette University Law School's Diversity Recruitment Committee, serves on Dominican High School's Alumni Board, and is a Supervising Attorney for the Madison Unemployment Appeals Clinic. She is also a member of Women in Focus, Inc., the HOAN Group, and Wisconsin Women in Government. In 2019, Makda was named Young Alumni of the Year by her high school, and named by the Wisconsin Law Journal as one of 2019's Up and Coming Lawyers. She is the 2020 recipient of the Wisconsin Women in Government Rising Star Award. Also in 2020, She was named as on of Wisconsin's 51 Most Influential Black Leaders by UniversalBlackNews. 
Stephanie Galvin, '14, is the Associate General Counsel for the Miami Marlins, where she advises, assists, and provides innovative solutions to all departments in their daily operations by ensuring legal compliance, negotiating and drafting agreements, analyzing and developing policies to minimize risk, managing litigation, along with any other legal issues that may arise.
Christian Bray, L'14, currently serves as the Associate Director of Athletics and Senior Woman Administrator at Harvard University and previously worked as the Assistant Athletic Director for Compliance at Yale University.
Christopher K. Flowers, L'14, serves as in-house counsel for Camp Gladiator, an industry-leading outdoor and virtual fitness franchise company, headquartered in Austin, Texas. Chris focuses his practice in the areas of franchise law and risk compliance. After graduating, Chris worked as a litigation associate in Godfrey & Kahn, S.C.'s Milwaukee and Washington, D.C. offices before relocating to Austin, Texas, where he worked as a senior litigation associate at the law firm of Thompson Coe before joining Camp Gladiator.
Renae Flowers, L'14, is Associate Privacy Counsel for Wheel, a company devoted to modernizing virtual healthcare delivery. In her role, Renae leads all facets of Wheel's privacy efforts including compliance with state and federal privacy laws. Prior to joining Wheel, Renae worked for a global law firm as a Healthcare Attorney representing health industry clients in a range of regulatory, compliance, and transactional matters. 
Emil Ovbiagele, '14, is the founder of OVB Law & Consulting, a boutique business and civil litigation firm.  He is the current President-Elect of the State Bar of Wisconsin's Young Lawyer Division.  In addition to his law practice, Emil serves as an Adjunct Assistant Professor at the Marquette University Law School and sits on several professional and civic boards, including the Milwaukee Bar Association, American Bar Association (GP Solo), and MKE Excellence Charter School. In 2017, he was the recipient of the Wisconsin Law Journal's "Up and Coming Lawyers". Since 2017, each year, Emil has been named to the Wisconsin Super Lawyers® "Rising Star" list. 
Julia Bradley, '15, is a Human Resources Officer at District of Columbia Department of Human Resources where she works with the DC Retirement system. Prior to this, she supervised the centralized intake unit for the DC Office of Human Rights, the sole civil rights enforcement agency for the District.
Isioma Nwabuzor, L'15,  is Vice President & Associate General Counsel at Baird, where she supports the firm's US and UK transactions, mutual funds, and asset management business. She is also a member of the leadership team for the firm's multicultural associate resource group's, PRISM, and co-chair for the firm's women's resource group, ASCEND (the first woman of color to hold this role). Isioma serves on the IP & Technology Law and Sports & Entertainment Law Sections of the State Bar; is a Board Member for the Association of Corporate Counsel – Wisconsin Chapter and the YWCA Southeast Wisconsin; and is a member of TEMPO Milwaukee's Emerging Women Leaders, serving as a leadership co-chair.  Additionally, she is the Founder of The DREAMer Next Door, Incorporated, a nonprofit organization dedicated to funding academic scholarships for underserved populations, including undocumented students.
Jamie Yu, '15, is Senior Staff Counsel at Fiserv and serves as secretary of the Board of Directors of PianoArts North American Competition and is on the advisory council for the Marquette Institute for Women's Leadership.
Hana Cho, '16, is a Corporate Associate in the Los Angeles office of Pillsbury Winthrop Shaw Pittman, where she focuses her practice on mergers and acquisitions and private equity matters. Hana began her legal career at Reinhart Boerner Van Deuren (Milwaukee, WI) and then continued her practice at Nossaman LLP (Los Angeles). Hana has co-authored various articles on topics including Sales & Use Tax, the IRS policies' effect on Employer Identification Numbers, and cybersecurity when evaluating acquisitions.
Larry Whitley, '16, is Counsel – Real Estate Investments in the Law Department of Northwestern Mutual. In this role, he represents the company (and its subsidiaries) in all aspects of its real estate investment activities. He is a member of the law department's Summer Clerkship Committee and he also serves on Northwestern Mutual's Sustained Action for Racial Equity Task Force. Read his bio.
Griselda Aldrete, '17, is the Director of Stakeholder Engagement at Alliant Energy. In 2015, she was selected as a U.S. Delegate for the British American Project and named one of Wisconsin's top 48 most powerful Latinos. In 2018, she was one of 47 U.S. delegates to the German Marshall Fund of the United States.