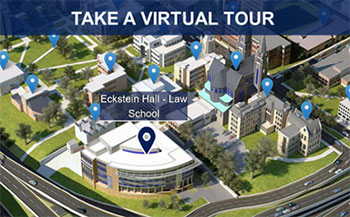 The Law School's Office of Admissions is open for visitors, and we look forward to meeting you. We are available for in-person, telephone, and video appointments most weekdays; weekend and holidays are not available. To ease the expense of your visit, we are pleased to offer reimbursement toward hotel and travel expenses for admitted students. Please see below for details.
Appointments are required. Please review our health and safety protocols prior to scheduling your visit.
Have a quick question? Call Admissions: 414.288.6767
Email Admissions: law.admission@marquette.edu
Reimbursement Information:
March 25, 2023 Admitted Student Open House Reimbursement Policy
Visit Reimbursement Policy for dates other than March 25, 2023
How to submit Reimbursement Request
Admitted Student Open House | March 25, 2023
We invite you to join us in person at Marquette Law School. Take a tour. Ask questions. Learn more about Marquette Law School. Meet our students and other members of the Marquette Law School community. Guided tours of our home, Eckstein Hall, will be available on Friday afternoon, March 24, and Saturday morning, March 25 preceding the open house events. 
Virtual Events 
Career Planning and You | Monday, April 3, 2023 | 12:15 - 12:45 pm CT*
From new student orientation to graduation and beyond, we'll help you begin planning for your future in the law. Success in implementing a strategic, effective job search requires shared responsibilities between the school and each student. Join the Career Planning Center staff for this valuable introduction to planning for success.
*This session content is complementary and supplementary to the information covered at the Admitted Students Open House "Career Planning Basics" session.
Register for the Career Planning session
[More virtual events are in the planning stages for summer 2023.]
Individual Visit Appointments
The Law School's Office of Admissions is open Monday - Friday for visitors. We are available for in-person, telephone, and video appointments. Individual appointments are not available on weekends and holidays; we apologize for any inconvenience. Please schedule at least 3 business days in advance.
Book an in-person appointment 

Book a virtual appointment

Take the 360 virtual tour