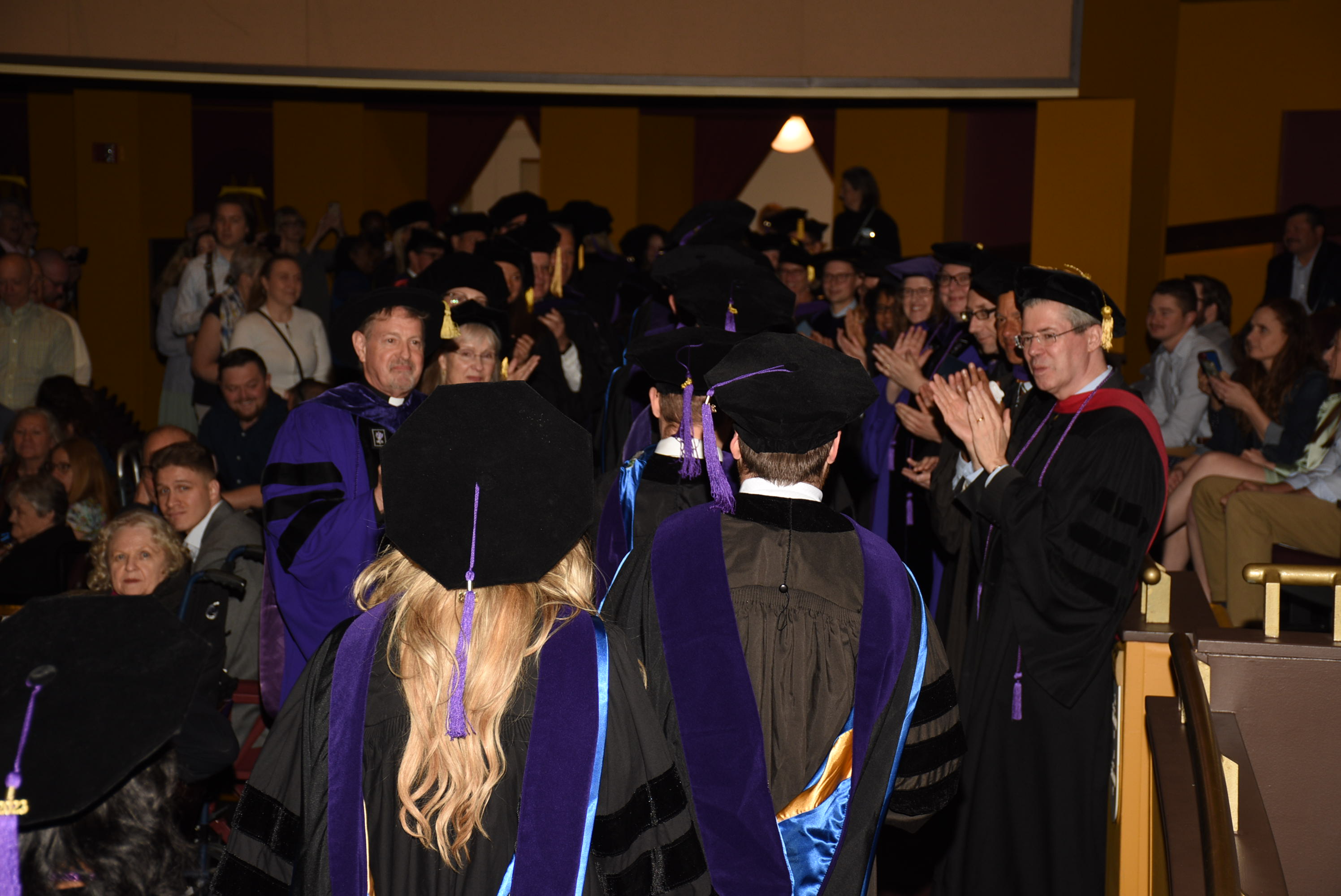 Marquette University Law School will celebrate the accomplishments of its fall 2023, and May and summer 2024 graduates the weekend of May 17-20, 2024. Resources for local hotels and other travel information can be found here. 
Please continue to check this page for updates about graduation weekend, as additional information will be posted periodically. Scroll to the bottom of the page for some FAQs. 
Law School Hooding and Commencement Ceremony
Saturday, May 18, 2024
2:00 p.m.
Miller High Life Theatre
500 W. Kilbourn Avenue
A reception will immediately follow the ceremony. Refreshments will be provided but a cash bar will be available. Please note that the theatre is a cashless venue. 
Tickets will be scanned at the door and students, faculty, and guests will be required to go through the venue's security check upon arrival, so please make arrangements accordingly. Backpacks and oversized purses and bags are not permitted. All other bags are subject to search. Please take note of the Theatre security and bag policies here. 
Regalia Pickup and Graduate Fair
Wednesday, May 15, 2024
12 - 2:30 p.m.
Zilber Forum, Eckstein Hall
Graduates will pick up their guest tickets, apparel package, and have the opportunity to greet the Law Alumni Association, State Bar of Wisconsin, and Milwaukee Bar Association. 
Graduation apparel package includes a gown, hood, tam, and tassel. Tam and tassel are to be kept by graduates, gown and hood are rented and must be returned. Graduates will receive pickup and return instructions later in the spring. 
All cords and stoles, whether provided by Marquette University Law School or not, must be congruent with the expectations of the Academic Regulations and in the spirit of professionalism. Honor cords are reserved for academic and pro bono honors exclusively. Any other personal graduation accessories will be limited to stoles and pins. Please contact the Office of Student Affairs with any questions regarding graduation regalia and accessories.
Eckstein Hall Open House
Sunday, May 19, 2024
10 a.m. until 5 p.m.
The building and parking will be open for graduates and their guests to give self-guided tours, explore the building, take photos, and return regalia. 
---
Wisconsin Bar Swearing-in Ceremony 
On the Monday following Marquette graduation activities, the Wisconsin Supreme Court typically hosts a swearing-in ceremony (solely for Marquette Law School graduates). The swearing-in will be followed by an invitation to the new members of the bar to sign the book of lawyers, a time-honored tradition. Ceremony times and communications come directly from the Board of Bar Examiners (BBE). For additional information regarding diploma privilege and bar admission, visit our website. 
Frequently Asked Questions
Below are a few suggestions.
For graduates: The academic robes can get warm, so we suggest that you avoid wearing a jacket or thick sweater underneath the gown. Otherwise, dress as you would for a commencement ceremony (shirt/tie and dress slacks; dressy slacks and a top; a dress; or a skirt and blouse).

Pro tip for everyone: Make sure that your shoes do not make it difficult for you to walk safely across the stage.

For your guests: There is no official dress code, as we do want everyone to feel welcome at the ceremony. But guests usually wear at least business casual attire and not jeans.
Please note: Kilbourn Avenue will be fully closed to cars in front of the theatre; however, the sidewalk to enter the main ticket lobby is still accessible. The theatre will have ADA drop off signage on the corner of 6th Street and Kilbourn for those with ADA needs. A map of the closure with parking in the area can be found here. 
Allow time to park or, better yet, have someone in your group drop you and most of your guests off at the Miller High Life Theatre.
Parking can be tight, but you should be able to find parking at any of the downtown commercial lots listed below. You can search for other parking options at https://www.milwaukeedowntown.com/getting-around/parking. We recommend that your driver drops you off at the northeast corner of N. 6th Street and W. Kilbourn Ave. and then parks in any of the lots in the vicinity. Please do not park at the Law School. The Law School garages will be closed by the time the ceremony concludes. The following lots/garages are located within walking distance to the Miller High Life Theatre:
Hyatt Parking Structure at N. 4th & Kilbourn
3rd & Wells
4th & State
6th & State
Commerce Lot at 744 N. 4th Street
Jo Lot at 725 N. 6th Street
MacArthur Square at 841 N. James Lovell Street
Wisconsin Center District Lot on Wells between 6th and 4th Streets
Guest tickets will be scanned at the door for the Hooding and Commencement Ceremony. Graduates and faculty will enter through a separate door and do not need a ticket to enter.
Everyone will be required to go through a security screening. ALL students, faculty, and guests will be required to go through the venue's security check upon arrival, so please plan accordingly. Backpacks and oversized purses and bags are not permitted. All other bags are subject to search.  Please take note of the Theatre security and bag policies here. Note below, any bags that you do not wish to wear under your gown during the ceremony should be left with your guests. The Kilbourn Room, where graduates will congregate backstage, is not secured.
For graduates: Graduates must arrive to the Kilbourn Room at the Miller High Life Theatre by 1:15 p.m. on Saturday, May 20. Follow the signs and greeters. The ceremony starts promptly at 2:00 p.m., but we need to line you up for the processional, which is no small task.
For your guests: Doors to the Miller High Life Theatre lobby will open by noon, and doors to the theatre seating area for guests will open by 1:00 p.m. All guests should be seated by 1:50 p.m. as the ceremony will begin promptly at 2:00 p.m.
Please plan accordingly regarding traffic, parking, and venue security screening to arrive on time. 
The ceremony will take place from 2:00 to 4:00 p.m. with a reception to follow. The entire event should end by 5:45/6:00 p.m.
Leave phones, cameras, and other valuables with your guests or in a secure location to hold during the ceremony. Backpacks and oversized purses and bags are not permitted per venue policies. All other bags are subject to search, and the Kilbourn Room is not secured.
Yes! For guests who cannot join us in-person, you can find the livestream here with the video being available closer to the start of the ceremony.
Hoods and gowns are rented and can be returned immediately after the ceremony in one of the collection bins in the Kilbourn Room or during the Eckstein Hall Open House on Sunday, May 21 (tam, tassel, and any honor cords are yours to keep). Please make sure to sign-out when you return your regalia.
Dean Kearney welcomes you to bring your guests to Eckstein Hall over the next few days and especially Sunday, May 22, for the Eckstein Hall Graduate Open House. Hours on Sunday are 10:00 a.m. to 5:00 p.m. The parking gate arms will be up on both levels to allow for free parking for you and your guests. 
At the Law School Hooding & Commencement Ceremony
GradImages is the university provider of graduation photos during the Hooding & Commencement Ceremony. Individual photos will be taken of each graduate on stage, and graduates should receive an email a few weeks after the ceremony when they are ready. If not, you can always search for your photos on their website here.
At the Swearing-in Ceremony
Marquette University Law School has contracted with Andy Manis Photography to take photos of all our graduates at the Swearing-in Ceremonies in Madison on Monday, May 22. The book of lawyers signing Photo Gallery is here. Password to access it is: Golden.
External Professional Photography in Eckstein Hall
We know that currently, professional graduation photos on campuses are popular. Individual, personal photos are always welcome. If you choose to have your own professional photographer take photos of you at Eckstein Hall, we are lifting our usual media and professional external photography registration requirements for your use during this time.
Please note the following:
External photographers are welcome as a guest of a graduate into Eckstein Hall for graduation photos on the following days: Monday, May 15 – Sunday, May 21. They should always be escorted by a graduate.
Photos taken must be for personal use only, no commercial use is allowed.
Designated photo locations inside the building have been marked in the lobby, Zilber Forum, and the Reading Room.
Please be respectful of all graduates, guests, and staff in the building and that permission has been given by everyone included in the photos.
Please do not move furniture and only use furniture as intended.
Please abstain from bringing confetti, loose balloons, noisemakers, or other disruptive props into Eckstein Hall.
No confetti, champagne, balloons, or other props that may be disruptive, is allowed inside Eckstein Hall. 
There are many beautiful outdoor locations near Eckstein Hall, and around campus that can be used freely without the restrictions listed above.