New method for logging into some library subscriptions
In preparation for migrating to a new catalog and library management system, online library subscriptions will be transferred to the Open Athens authentication system. Starting August 8th and continuing through early summer of 2024, you may increasingly encounter a new prompt, which is shown below, asking you to "Choose how to sign in" whether you are on campus or working remotely.  Select Marquette University Libraries (AZURE) and follow the instructions on the screen. For online resources that have not yet migrated to Open Athens authentication, access to the subscription remains unchanged.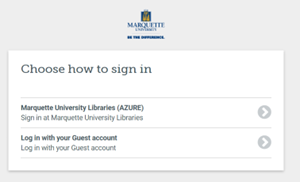 Additional information on the Open Athens project is available on the Raynor News page.
---
Summer and Post-Graduation Bloomberg Law, Lexis, and Westlaw Access
Continuing students: You will have automatic, unrestricted access to your Bloomberg Law and Lexis accounts this summer. There is no need to register and you do not need to limit use of these two accounts to academic purposes during the summer months. (You must limit use of your Lexis account to academic purposes during the regular academic school year.) You will also have access to your Westlaw account this summer, including Practical Law, but you must continue to limit any use of your academic Westlaw account to non-commercial purposes. Non-commercial purposes include coursework, Research Assistant assignments, law review or journal work, moot court research, unpaid non-profit public interest work, clinical work for credit, and internships/externships for credit through the law school. You can continue to use other databases, such as Fastcase and HeinOnline, as you would during the fall and spring semesters.
Graduating students: Your unrestricted Bloomberg Law access continues for six months after you graduate. Unrestricted access to Lexis continues through December 2023. You can extend your post-graduation Westlaw access for 18 months (up to 60 hours of Westlaw use per month compared to the 180-hour monthly cap in place for active student accounts). Watch for an email to your @marquette.edu account from the law library with additional information about this extended database access and more. 
Your access to Bloomberg Law, Lexis, and Westlaw is tied to the graduation date in your account profiles for each system.
All: Employers or organizations with which you volunteer or intern might require or prefer that you use firm/organization accounts rather than database access through your academic account. Please understand and comply with relevant practices and policies.  Importantly, you must not share your Marquette-affiliated account credentials or access with anyone, including classmates or colleagues at work who have their own accounts.
Questions about access to resources or working with these and other databases? Reference assistance and research consultations are available to you throughout the summer and beyond. Just stop at or contact the Reference Desk to get started.  We're happy to help!
---
Prepare to Practice Research Resources
Whether because you want a refresher or deeper dive to add efficiency to your research for an employer or just because you feel like you finally have time to explore, this summer may be a good time to take advantage of on-demand and other training opportunities from the vendors. If you are interested, explore help and training features within databases, or consider the resources highlighted here. (Registration or login may be required.)
Bloomberg Law:
Bloomberg Prepare to Practice Session Recordings
Bloomberg Video & Reference Guides (includes a link to Bloomberg Law's certification program)
Fastcase:
Resources available from Fastcase Support include video tutorials, registration for free Fastcase webinars, and more.
Lexis:
Lexis+ Clinic Resources for Faculty & Students (organized for public interest and government work)
Westlaw:
Thomson Reuters Prepare to Practice for Summer Associates and Legal Interns (with option to select the Westlaw product available in your summer practice setting)
Remember, the Eckstein law librarians and staff are available to you, including during the summer. Contact a reference librarian for tailored research and training support.
---
National Library Week 2023 (April 23-29, 2023)
It's National Library Week! Join the Ray & Kay Eckstein Law Library and libraries nationwide in celebrating this week, beginning with Right to Read Day on the 24th and continuing through the 29th. Highlights include:  
Amnesty on fines: This week the law library is offering amnesty on all student accounts—law, graduate and undergraduate—for fines on law library materials that have been returned. If you have a fine or a late item, visit the Circulation Desk during service hours to have your law library fines waived. If you are currently using law library materials that are overdue and would like to renew them without fines, bring the materials with you when you come to the desk to renew.  
Free book cart: Look for a free book cart near the Circulation Desk and tables in the reference area on the first floor. You are welcome to take one or more of the books if you'll provide it a good home. Most are older editions, extras, or donations, and some contain highlighting or other markings. From dictionaries to treatises to study aids to fiction and more, you never know what you'll find. Be careful if you plan to use these to study, as the content might be outdated.
Participate and enter to win swag: Marquette law students, stop at the Circulation Desk during staffed service hours this week for the chance to answer questions of the day to enter your name in a drawing to win swag including Marquette Law School mugs, hats, or t-shirt; highlighter packs; and other items. Or enter your guess of the number of sets of ear plugs in the container at the desk, with the closest guess getting a swag bag that includes two gift admission coupons for the Boerner Botanical Gardens, a relaxing option for a study break or to celebrate after finals.
Recent print acquisitions: Browse the display next to the St. Thomas More statue near the reference collection or this online list to explore monographs new to the law library's print collection. If you take a book from this display (or the library shelves), use your MUID to check it out at the Circulation Desk or one of the Self-Checkouts on the 2nd–4th floors. (Looking for online resources? Consider starting with Quick Links for Law Students, or talk with a Reference Librarian about finding and working with resources or research strategies as you finish your briefs, papers, and prepare for finals.)
Snacks and more: While supplies last, help yourself to a quick snack or an Eckstein Law Library highlighter pen at the Circulation Desk on your way to class or when you stop to checkout or return a book or laptop, use the hole punch or stapler, or just to say hi.  
---
Welcome to the Eckstein Law Library
Welcome to the Eckstein Law Library, a library without borders. Seamlessly integrated into all four floors of Eckstein Hall and the life of the Law School, this integration is much more than a physical one. Consistent with Marquette University's Jesuit tradition and in support of its statement on human dignity and diversity, the law library welcomes students, faculty, staff, the legal community, and other patrons conducting legal research regardless of age, culture, faith, ethnicity, race, gender, sexual orientation, language, disability, or social class. We provide access to credible legal resources as well as expert research support and instruction along with services, tools, and spaces for conducting research and pursuing academic excellence. We look forward to working with you!
---
Archive List
Welcome to the Eckstein Law Library