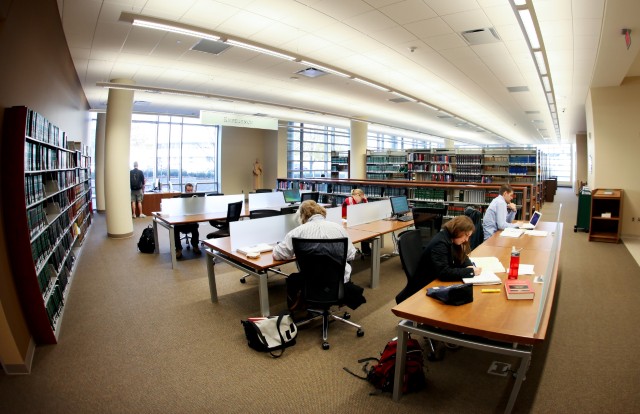 Current and updated information on reference service hours and access to the Eckstein Law Library is available on our Library Service Hours page; please check the page regularly or call before visiting for updates and requirements.
Reference librarians are available to assist researchers with questions related to locating and using legal resources in print and online. Reference librarians will not give legal advice or interpretations of the law. 
---
Contact a reference librarian
Researchers may obtain reference assistance in the following ways: 
Telephone:  Reference assistance is available by telephone at (414) 288-3837.  Researchers are encouraged to leave a detailed voice-mail message if a reference librarian is not available to answer a call.
Email: Reference assistance is available by email. A reference librarian will provide an initial response to inquiries within 24 business hours. Priority is given to those affiliated with Marquette University. Please note that email responses are not supplied within 24 hours when Eckstein Law Library is not offering reference services, such as during holidays or scheduled breaks; please see our Library Service Hours page for more details.
Public Patrons and Law Library Card Holders:  While the entrance to Eckstein Hall remains locked, library card holders and public patrons interested in using library materials or obtaining reference assistance in person may schedule an appointment to visit the law library.  Weekend and Monday appointments must be made by 3:30 p.m. the Friday before; all other appointments must be made at least one business day in advance.  Appointments may be made online or by calling (414) 288-3837 and speaking with a reference librarian.
Law Students, Faculty, and Staff:  In-person reference assistance is available at the reference desk during scheduled reference hours; please consult the Library Service Hours page for all current reference hours. Research consultations via Microsoft Teams are also available and may be scheduled by contacting the reference desk by telephone or email to make arrangements. 
Reference Hours
Our Library Services Hours page sets out all current service hours.