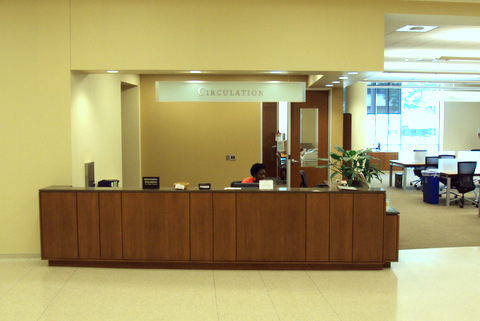 The Eckstein Law Library circulation desk is located on the first floor of Eckstein Hall.  Services available at this desk include check-outs and returns, questions related to notices and payments for overdue material and assistance with copier malfunctions.  Self check-out stations are available on the 2nd, 3rd, and 4th floors.
Return items
Please place books to be returned in the book return slot at the circulation desk or in the book return located in the building's lobby. To ensure that books checked out to you are properly checked in, they should not be left on the reshelving carts.
Reshelve items
Please do not reshelve used material.  When finished, place used items on the reshelving carts found by the copiers and throughout the library space.
Missing items or items not on shelf
If a particular item cannot be found on the shelves, check at the circulation desk for recently returned items.  If there is no record that the material is in use, a search request should be completed and a staff member will search for the missing book.  Patrons will receive a response via email.
Location of library collections
Floor maps showing the location of all library collections are available at the circulation desk.
Non-circulating items
Eckstein Law Library collects materials to support the research and study of our law students and law faculty. Our circulation policies have been developed to make sure our collection is available when needed.  The following materials may not be checked out from the library:
Reference materials
Primary materials, including statutes and case reporters  
Microforms
Looseleaf services
Multi-volume sets
Materials labeled "Law Faculty"
For more detailed information by user type, refer to the Loan Period Table.
Borrowing items
A Marquette University ID or a library card is needed to borrow circulating material from our collection. See our checkout policies, fines, and renewals for more detailed information.