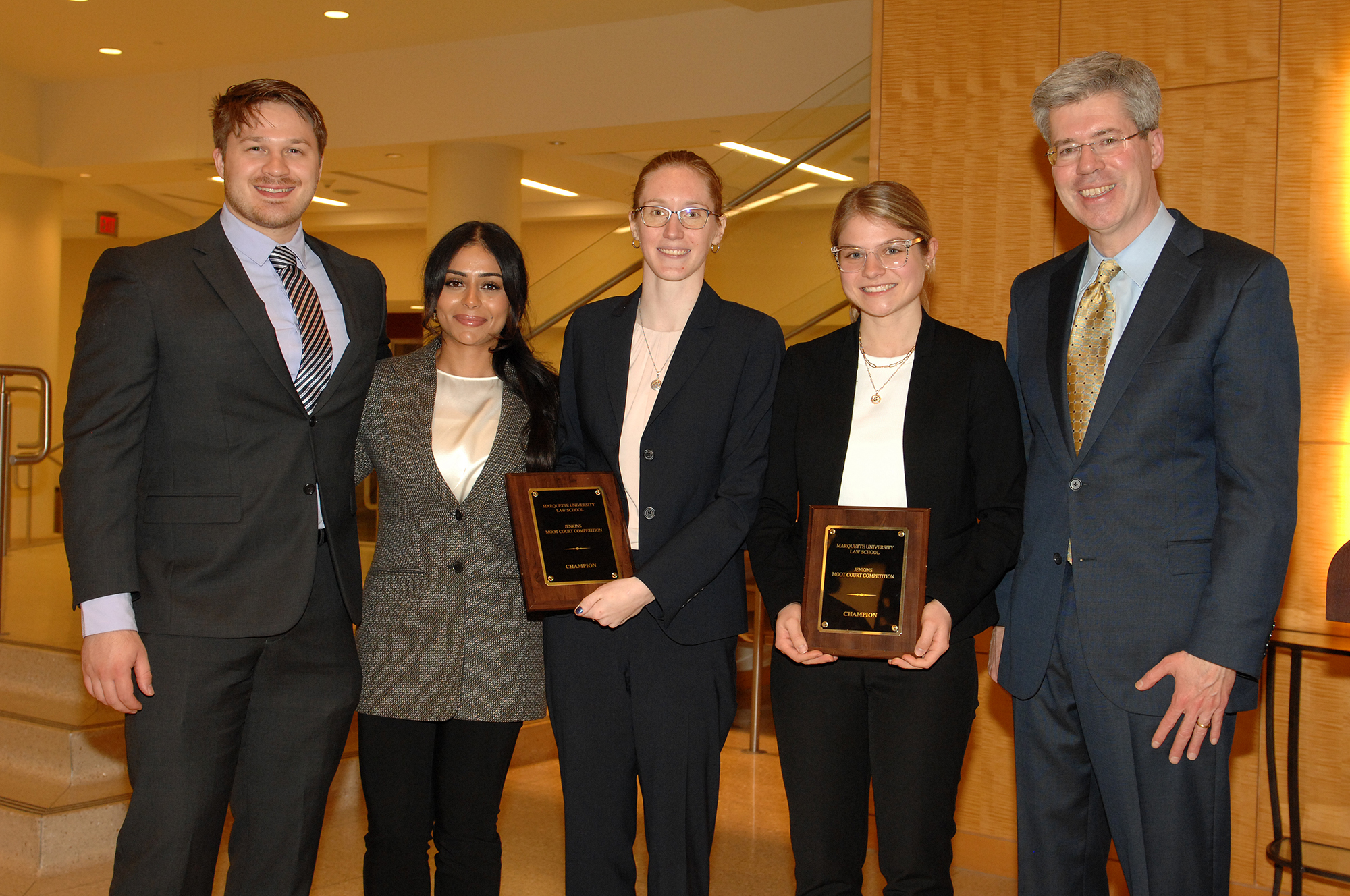 The Jenkins Honors Moot Court Competition is the appellate moot court competition for Marquette law students and is the capstone intramural event of the moot court program. Students are invited to participate based on their top performance in the fall Appellate Writing and Advocacy course at the Law School.
The 2023 Jenkins preliminary rounds were held on March 26-27, 2023, with the winning teams progressing through the quarterfinals, then semifinals, to the final round. The quarterfinals and the semifinals were held on Sunday, April 2nd, 2023.
The final round was held on Tuesday, April 4th, 2023 at 6:00pm. We thank the following distinguished jurists who judged the final round:
Hon. Michael Y. Scudder, Judge, U.S. Court of Appeals for the Seventh Circuit
Hon. Timothy G. Dugan, L'78, Judge, Wisconsin Court of Appeals
Hon. Beth E. Hanan, U.S. Bankruptcy Court for the Eastern District of Wisconsin
Congratulations to Samantha Dorning and Ciara Hudson , Winners of the 2023 Jenkins Honors Moot Court Competition and to Lauren Hudon and Mikela Ryan, Finalists.
Franz C. Eschweiler Prize for Best Brief: Samantha Dorning and Ciara Hudson
Ramon A. Klitzke Prize for Best Oral Advocate: Samantha Dorning
Congratulations to the following students who were selected to the 2023 Jenkins Honors Moot Court Competition:
Alexis Bauer
Samantha Dorning
Andrew Flood
Dominique Fortune
Emily Geiser
Isabel Gonzales
Lauren Hudon
Ciara Hudson
Alexandra Johns
Markus Johnson
Emily Juneau
Morgan Kaplan
Jori LaRosa
Kayleigh Lemery
John Letsch
Cody Linday
Jacob Lloyd
Isaiahs Luna
Elliott Manuel
Connor Mathias
Angela Medcalf
Derik Rush
Mikela Ryan
Emily Smith
Please email Fefe Jaber, or Travis Goeden, Associate Justices of Intramural Competitions, with any questions regarding the 2023 competition.
Follow us on Instagram and Twitter @mulsmc!