National Moot Court Competition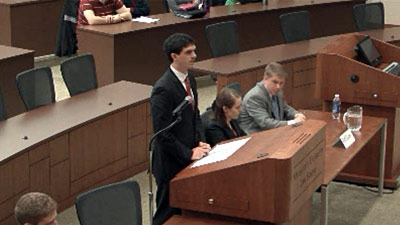 A student argues during a round of the regional National Moot Court Competition held at the Law School.
Marquette University Law School is proud to virtually host the 2021 Region VIII Regional Round of the 72nd National Moot Court Competition on Friday, November 19, 2021, through Sunday, November 21, 2021.
Congratulations to Team 105 (Jacob Skolnik and Zelpha Williams) from Chicago-Kent College of Law, who was the winner of the regionals. Jacob Skolnik was named best oralist. 
Congratulations, too, to Team 102 (Carsyn Bushman and Lauren Brasington) from Marquette University Law School, who were finalists. Both teams will compete in the NMCC Nationals January 31 to February 3, 2022 in New York City.
Contact Zak Wroblewski, Associate Justice of the National Moot Court Competition (zachary.wroblewski@marquette.edu) or Professor Lisa Mazzie (lisa.mazzie@marquette.edu) for more information.