National Moot Court Competition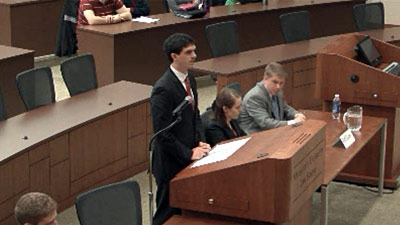 A student argues during a round of the regional National Moot Court Competition held at the Law School.
Marquette University Law School is proud to host the 2018 Region VIII Regional Round of the 69th National Moot Court Competition on Saturday, November 17, 2018 and Sunday, November 18, 2018. The New York City Bar and the American College of Trial Lawyers have sponsored this competition since 1950. The winners advance to the final rounds held in New York City. This nationally recognized competition allows law students to hone their appellate advocacy skills by arguing before prominent members of our profession.
The problem was released on Wednesday, September 19, 2018. All briefs are due on Friday, October 19, 2018 at 11:59 p.m. Eastern Time. Please submit your briefs using the Region VIII TWEN platform.
Please refer to the following links for more information: