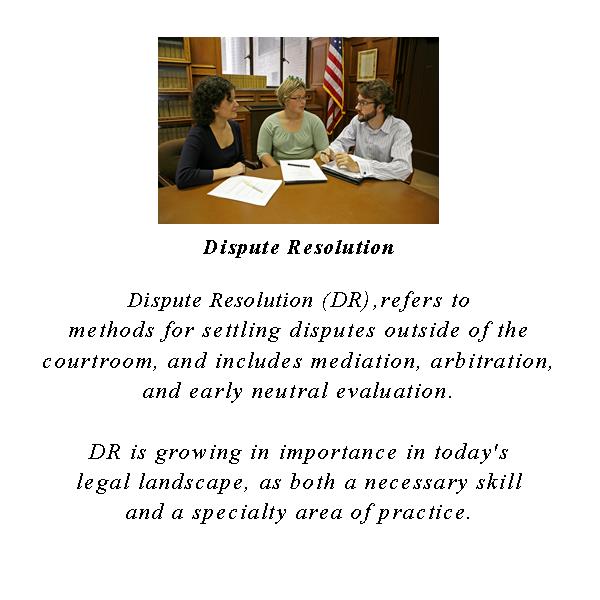 Dispute Resolution
The legal profession is multifaceted, requiring a complex combination of knowledge and skills. Marquette University Law School trains compassionate, empathetic professionals capable of advising clients regarding all available avenues for resolving disputes, whether through litigation or alternative dispute resolution mechanisms. A leader in dispute resolution education, Marquette University Law School offers its students all the benefits of a nationally recognized DR program.
In addition to its outstanding DR faculty, Marquette is known for being on the cutting edge of ADR in the legal arena.  In September 2016, Marquette hosted the highly successful 10th Annual AALS Alternative Dispute Resolution Section's Works-in-Progress Conference, and opportunity for dispute resolution scholars to present works at any stage of development.  In December 2013, the Dispute Resolution Program hosted a conference focused on Expanding the Canon of Negotiation, setting the stage for The Negotiator's Desk Reference, an update of The Negotiator's Fieldbook, the highly successful ABA Publication co-edited by then-Director Andrea Schneider.  In fall 2011, the Dispute Resolution Program partnered with the Association of Family and Conciliation Courts and the Resolution Systems Institute to host The Future of Court ADR: Mediation and Beyond.
In addition, Marquette hosted the first ever Dispute Resolution Works in Progress conference in 2007, and the International Media and Conflict Resolution Conference took place at Marquette University Law School in 2009. The Marquette Law Review Symposium Issue from the IMC conference is available here.  The Marquette Law Review also hosted a special symposium on the Uniform Mediation Act in 2001. The first symposium on the emerging interdisciplinary negotiation canon was held in fall 2003.
Marquette University law students have excelled at international and national client skills competitions. In July 2019 the Marquette team recieved the Best Mediation Management award at the Consensual Dispute Resolution Competition (CDRC) in Vienna.  In July 2018, the mediator from Marquette University Law School placed 2nd overall in the CDRC Competition in Vienna. Other recent acheivements include 1st place at the ABA Regional Client Counseling Competition in February, 2017, 4th place at the ABA Regional Negotiation Competition in November, 2016, 4th overall in the Mediator Category at the 2016 INADR International Law School Mediation Competition, 3rd Place in the Northeastern Mediation Advocacy Invitational in 2015, 1st Place in Team Advocacy at the Great Lake Mediation Competition in February 2014, and winning the American Bar Association's Region 7 Representation in Mediation Competition the same weekend, earning the opportunity to compete at the National ABA Representation in Mediation Competition in Miami in April 2014.
Contact us for more information on Marquette University Law School's nationally-ranked program in Dispute Resolution.